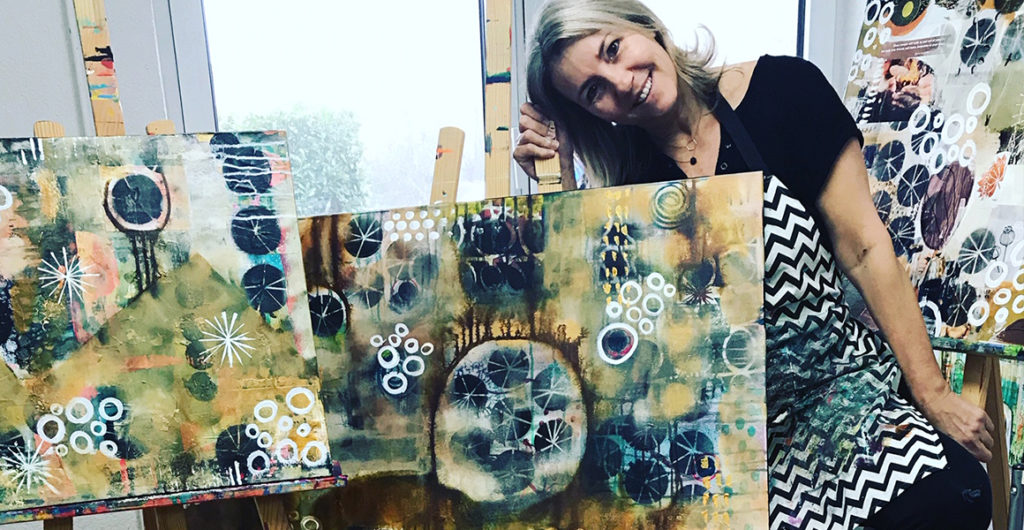 You like my art, but…
You can't quite find the perfect piece for that awkward space above the fireplace.
You are looking for a special painting with your story.
An artwork has already caught your eye, but it's not quite the right size or colour.
Don't worry. I've got you covered.
How does it work?
You send me an email to let me know you are interested in commissioning an art piece from me
You will receive a questionnaire that will help you 'define' your perfect painting.
This includes your budget, completion date, colours, shapes, story, what you absolutely want on your painting, and what I should avoid, elements to include (like collage, names etc), which support to choose (canvas, wood, aluminium etc), size, anything else you want to share etc.
We set up an initial call to discuss your wishes and define the piece in detail.
If you want to proceed, we sign a simple commission agreement.
You pay an agreed deposit to get the ball rolling.
I will do a first visit to the future home of the painting to get inspired and clarify any further details with you.
I will create a small sample painting following your wishes.
I will do a second visit to discuss sample painting and any changes or new things that have come up.
I will start painting the final piece.
I will film the entire process and you receive a time-lapse video at the end.
I will send you process updates and photos of the different stages (unless you want it to remain a surprise).
Once the painting is finalised a viewing can be organised before it is varnished/sealed.
Painting is signed, named and sealed.
Painting is delivered to its new home.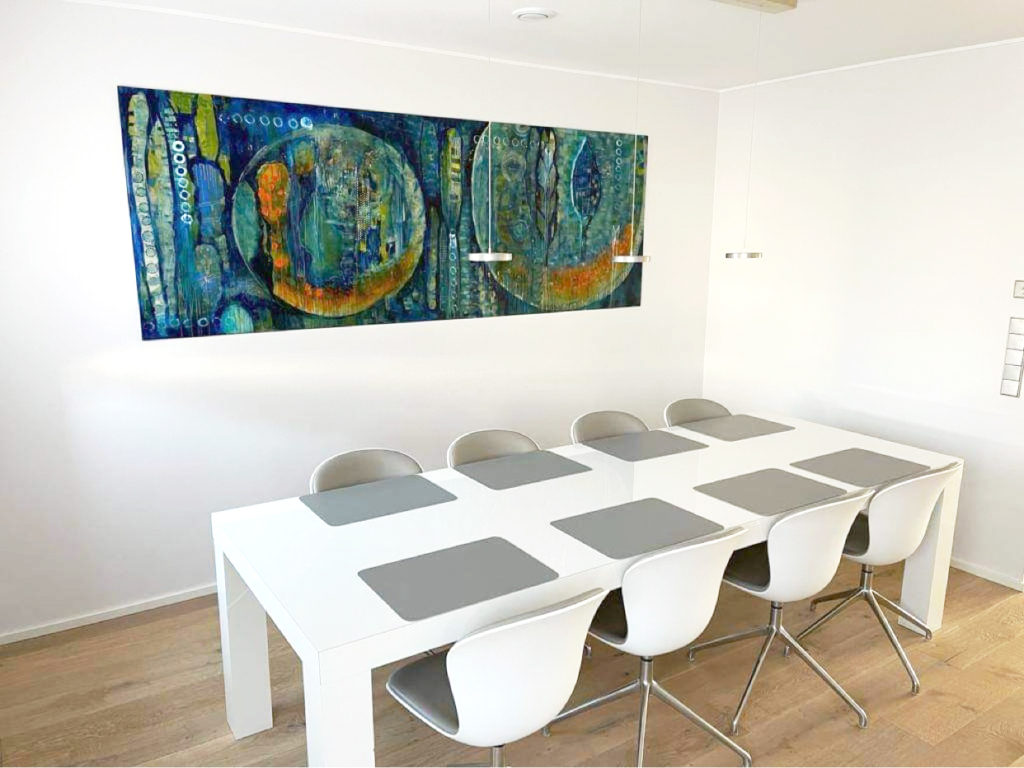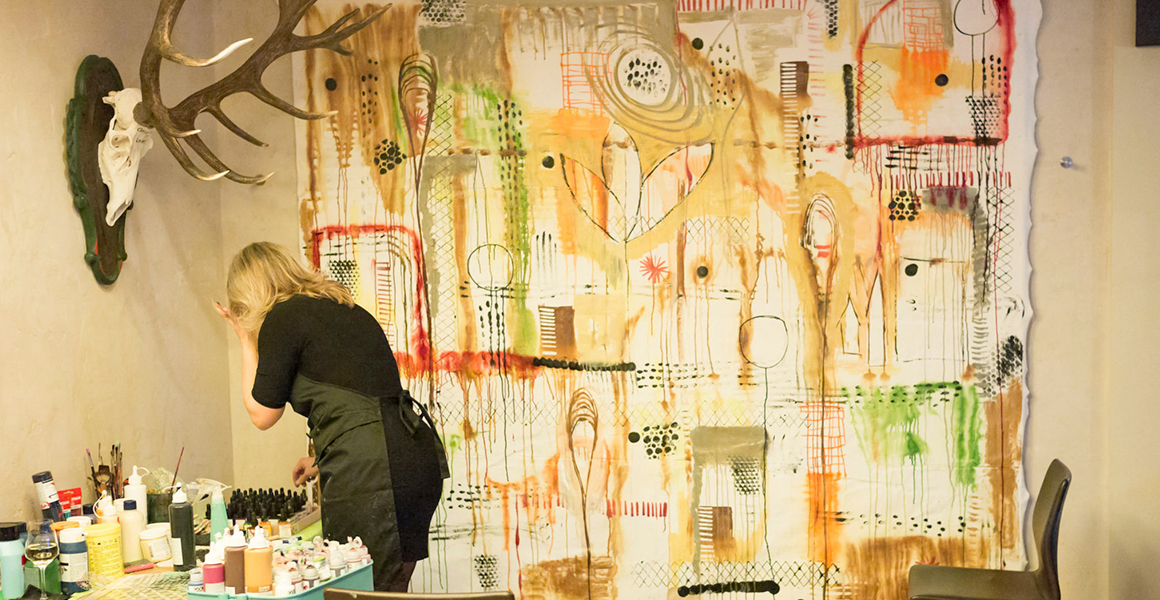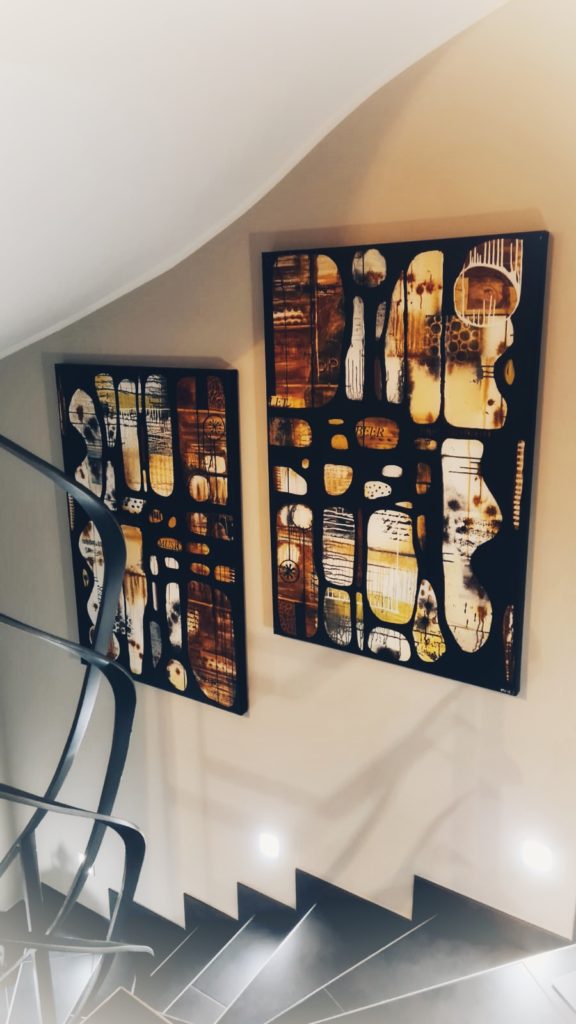 Frequently asked questions
What is the price of a commission?
This is difficult to say as it depends on the support chosen and size of the piece. I can consult you on what would be best for the space that you have foreseen and your budget.
I want/need to cancel the commission:
If for any reason you cancel the commission after the initial studies have been completed but before the canvas has been started, a partial refund of the Deposit Payment will be given, ie deposit minus 100 euros.  The 100 euros fee covers my time consulting, creating, and materials used.
I don't live in Luxembourg, can I still order your art?
Of course! The only restriction is that the art will have to be on canvas as any other support will be too complicated and expensive to ship.
Instead of the visits, we can do Skype sessions to give me an idea of the space.
Once finished, the unstretched canvas is sent rolled in a tube and can be taken to a frame shop to stretch
Shipping costs vary due to location, size.
If you would like your piece to arrive stretched it may need a custom crate built to ship them which increases costs.
I would like to replicate a painting I like. Do you do that?
I like to ensure that each client's piece is unique, so I never set out to exactly replicate a specific painting. But I am happy to create my interpretation of an existing painting, that is done in my style.
I want a painting of my dog. I want a portrait. Do you do those?
I don't do portraits of people or dogs.  I can however integrate picture(s) of the person/animal as a collage base and create a unique piece.
How long does it take until I get my commissioned painting?
Once begun, commissioned paintings on canvas generally take 4-8 weeks for completion (includes the entire process outlined above).
Who owns the copyright on an original piece of work? Copyright for all artwork and images remains with the artist Miranda van den Heuvel. The sale or commission of a piece does not transfer copyright. Artwork can be displayed in your home or place of work but please do not reproduce the work without permission.